Which is better for your company: LinkedIn Sales Navigator Enterprise or LinkedIn Sales Navigator Team?
That is the response we provide in this article.
What exactly is the LinkedIn Sales Navigator Enterprise?
Enterprise Sales Navigator is a cutting-edge sales solution designed for businesses looking to streamline their sales processes and drive growth. This platform offers a range of powerful features, including lead generation, account mapping, and predictive analytics, that help sales teams increase their productivity and close more deals.
LinkedIn Sales Navigator Enterprise is the company's most expensive premium package. It includes additional InMails, improved CRM connectivity, and enhanced Teamlink introduction features.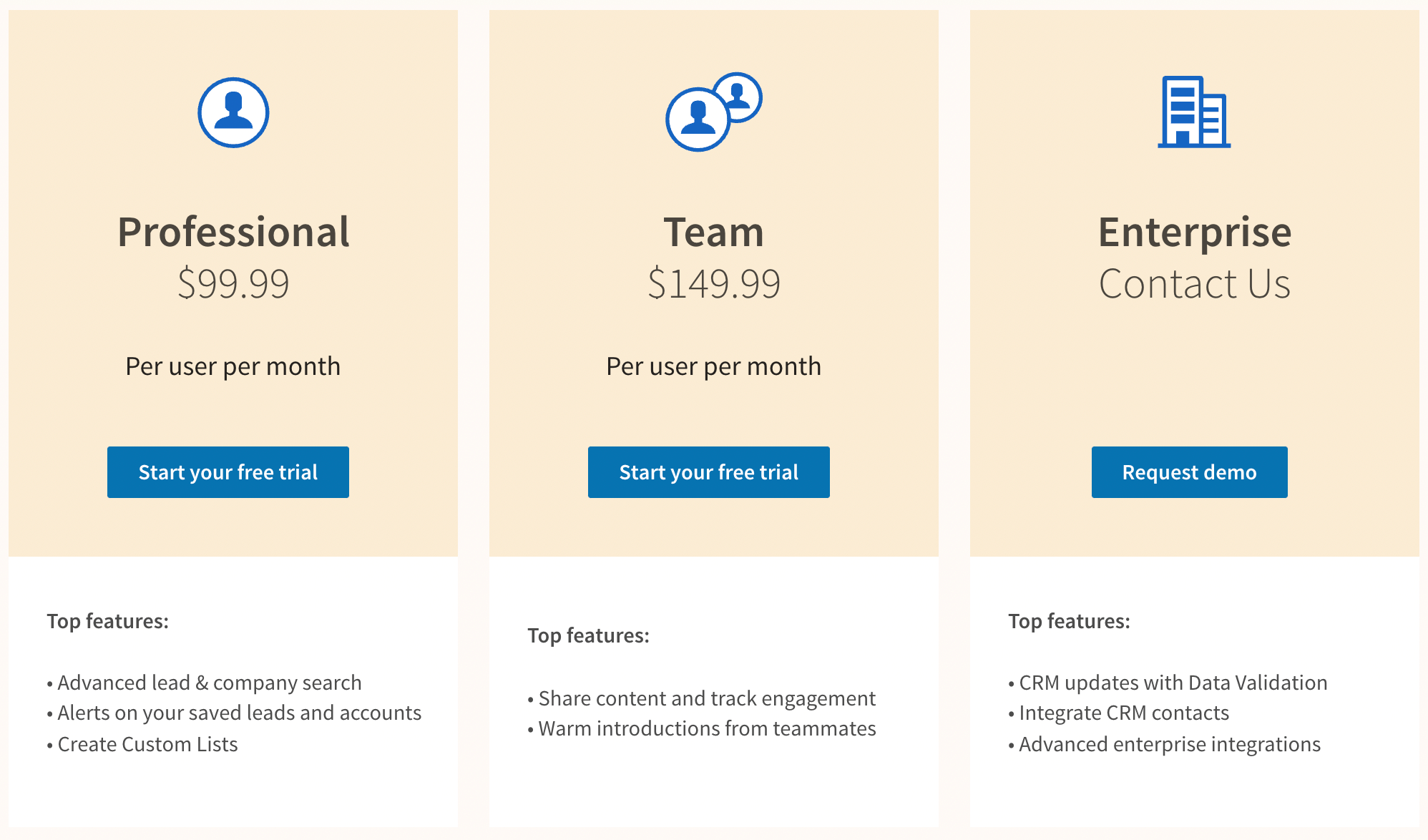 The Sales Navigator comes in three versions:
Professional
Team
Enterprise
The best option is unquestionably Professional if you run a small business or are a freelancer. Searching for leads and accounts will allow you to store them in lists.
Sales Navigator Team is a powerful sales tool designed for sales teams, recruiters, and business development professionals who want to enhance their prospecting and outreach efforts on LinkedIn. Whether you are a small start-up or a large enterprise, Sales Navigator Team offers features that can help you reach your sales and recruitment goals more effectively.
The Sales Navigator Team is tool that is ideal for sales professionals who want to expand their networks, find new leads, and engage with potential customers on LinkedIn. It gives you access to advanced search filters, personalized lead recommendations, and the ability to save and organize leads in custom lists. Sales Navigator Team also provides real-time insights into your prospects' activity, such as updates on their career, new connections, and recent posts.
Recruiters can also benefit from Sales Navigator Team, as it makes it easier to search and find top talent on LinkedIn. With the ability to see who is actively looking for work and who has recently changed jobs, recruiters can reach out to passive candidates and increase their chances of making successful hires.
If you run a successful sales organization with numerous Sales Teams, you might wish to use the Enterprise subscription to take full advantage of Sales Navigator's capabilities.
Pricing for Enterprise Sales Navigator
LinkedIn doesn't make available publicly the price of LinkedIn Sales Navigator Enterprise. Nevertheless, we are aware that annual prices start at $1,600 per seat.
The pricing for Enterprise Sales Navigator is based on the size and needs of your organization. It offers a flexible pricing model that can be customized to meet your specific requirements. This ensures that you only pay for what you need, rather than being forced to buy a one-size-fits-all solution.
For large enterprises, Enterprise Sales Navigator offers a comprehensive package that includes all the features and tools necessary to support a complex sales organization. This package is designed to scale with your business, so as your sales team grows, your investment in the platform will grow with it.
For smaller businesses, Enterprise Sales Navigator offers a more streamlined package that includes the core features needed to drive sales success. This package is designed to be affordable and accessible, so that you can start seeing results without breaking the bank.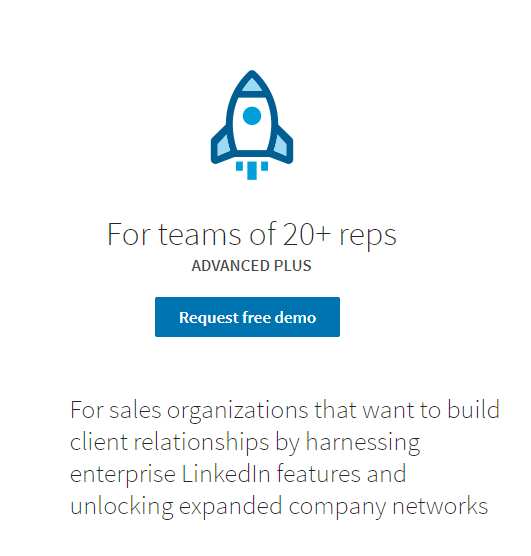 You must schedule a demo to receive a customized estimate of the Sales Navigator Enterprise cost for your business.
Sales Navigator Team vs. Enterprise on LinkedIn
In comparison to Sales Navigator Team, the additional features of LinkedIn Sales Navigator Enterprise are shown below:
1. Teamlink Extend
2. Advanced CRM Synch
3. Real Time Contact Update
4. Chirurgical Targeting on Linkedin Ads
1. Teamlink Extend
You can use TeamLink to check if other members of your sales team have already established contact with your prospect.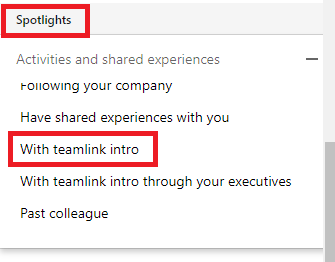 Even better, you can choose a Teamlink filter in the lead search's Spotlight part. Then, you can request from your teammate to secure a friendly introduction to prospective clients! The Scrupp Chrome Extension will enable you to export these contacts into a CSV file even though you cannot do so straight from Sales Navigator.
You can use TeamLink Extend to connect to your whole company's second- and third-degree networks. You will therefore be able to ask for an introduction if your prospect is related to somebody in your firm. One thousand TeamLink Extend seats are included with every Enterprise Edition.
2. Advanced CRM Synch
It might be very difficult to record every LinkedIn encounter into your CRM. Notes, InMails, or calls made via the Sales Navigator mobile app are now recorded to your CRM thanks to Sales Navigator Enterprise.
With the help of this sophisticated integration, you can now examine Sales Navigator profile details right from your CRM:
- Photos
- Employment histories
- Job titles
- Connections shared through TeamLink
3. Real Time Contact Update
Your CRM's contact information is automatically updated by LinkedIn Sales Navigator Enterprise. Leads will be marked as "No longer at the company" when they change employers.
LinkedIn will also suggest a new point of contact for you to use in place of the person who changed positions in this organization. Considering how frequently individuals change jobs, this function is really helpful.
4. Chirurgical Targeting on LinkedIn Ads
You may utilize the Campaign Manager in Sales Navigator Enterprise to launch ad campaigns on the leads or accounts of your preference. Users will be able to access your new Campaign Manager and see two groups when they do so: Leads from Sales Navigator and Accounts from Sales Navigator.
As your salespeople attempt to set up appointments with specific prospects, picture running advertising on them. This can significantly enhance the reply rate of your external messages because they will be exposed to your brand on a daily basis.
Sales Representatives can check the activity of the prospects they are targeting on the Campaign Manager dashboard to see whether they are responding to your ads. The SDR will be notified whenever one of their leads interacts with an advertisement. This offers great conversation starters for your salespeople, who may use the interaction with the advertisement to strike up a conversation or follow up on a lead.