Regular messages and InMails are the two ways that LinkedIn gives users the ability to start private communications on their platform. You might be wondering whether you should contact people on LinkedIn through messages or InMails. This is the response we provide.
What distinguishes a message from an InMail on LinkedIn?
InMails enables you to contact another LinkedIn member without previously initiating a connection request. LinkedIn messages can only be sent to those with whom you are already linked. InMails is a subscription function offered only to Linkedin Premium members.
1. The maximum number of regular LinkedIn messages
You can only DM your first-degree relationships using LinkedIn normal messages. Those with whom you have existing connections on LinkedIn, to be exact.
If you send someone a connection request on LinkedIn and they approve it, regardless of whether they reject it, you are in their first degree of connection. Neither third-degree connections nor second-degree connections can be contacted directly using LinkedIn messages (people with whom you have no connections in common).
2. The effectiveness of LinkedIn InMail messages
You can communicate second- and third-degree connections on LinkedIn without first issuing a connection request.
By doing this, you can bypass the connection request phase and go straight to your prospect's message. The recipient's inbox shows the remark "Inmail" when you deliver an InMail message.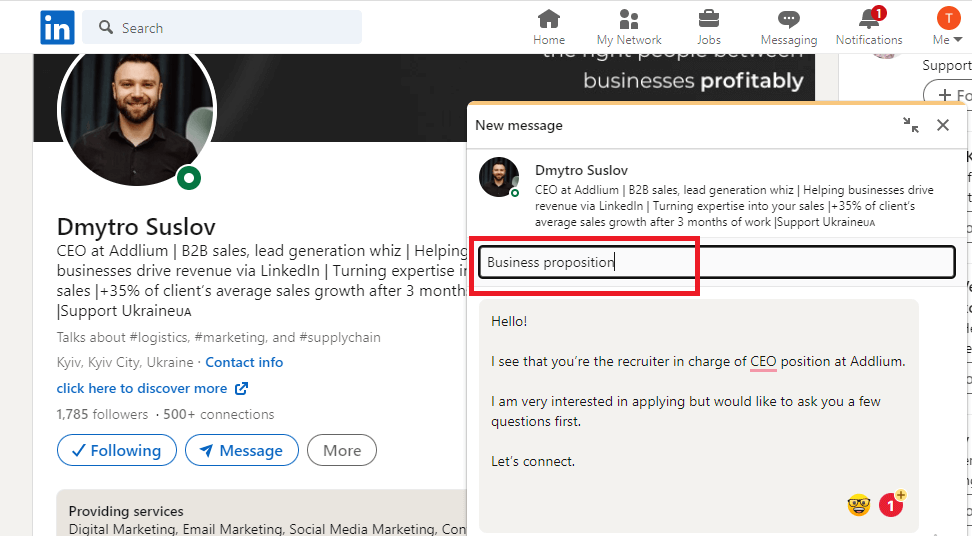 Additionally, you can add a subject line to your communications. A crucial point to remember is that InMails cannot be used for follow-ups. Sending a connection request will be necessary to make contact if your prospect doesn't respond to your reply.
3. Getting LinkedIn InMails Credits
InMails is a paid service. A free account does not allow you to send inmails. You must have a premium account on LinkedIn in order to receive inmails credits. There are various inmail credits available with each LinkedIn Premium offer:
• Linkedin Sales Navigator: 50 inmails credits per month
• Linkedin Recruiter: 150 inmails credits per month
• Linkedin Premium Career: 5 inmails credits per month
• Linkedin Premium Business: 15 inmails credits per month
It is likely that you will choose LinkedIn Sales Navigator if you are a salesperson.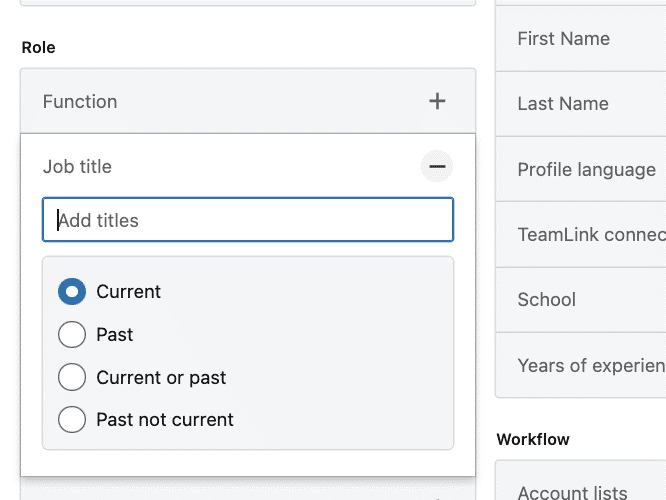 You receive more credits for InMails as you receive more responses. Therefore, if you want to get the most out of your InMails credits, be certain to enhance your sales prospecting messages.
What Is Better for Cold Outreach: Linkedin Inmail or Message?
Cold outreach is the process of cold-calling potential customers to secure leads and close sales. It can be a time-consuming activity that takes great effort in cold calls, but it's also an effective way for small businesses to generate new business by acquiring more clients or getting referrals. There is no conclusive response to the written above question. InMails and ordinary LinkedIn communications complement each other.
In your lead generation campaign, it is advisable to employ both LinkedIn messages and InMails.
1. What is the best way to use LinkedIn InMails for lead generation?
The scarcest method of contacting LinkedIn members is through InMails. If you have a Sales Navigator account, you only get 50 per month. As a result, you should utilize them carefully.
You can send:
• 200 emails every day
• 100 LinkedIn connection requests per week
• 50 inmails per month
Using these resources in the order of rarity will help you connect with your prospects. Because InMail has the biggest cost, you should utilize it last:
1. Email
2. Requests for LinkedIn connections (and messages)
3. Inmails
As a result, your prospecting campaigns will look somewhat like this. These are known as email-first sequences. If you still want to begin with LinkedIn, you can use linkedin-first sequences. To summarize, you only receive a few inmails per month. Utilize them only as a last resort to contact persons you definitely must meet with.
2. Emails vs. LinkedIn InMails
LinkedIn InMails outperform emails in terms of statistics. InMail's open rate has the potential to reach 57.5%, compared to the typical email's 22%.
The same is true for response rates; they increase from 1 to 10% for emails to 10 to 25 percent for InMail messages. But, as I already stated, it is not necessary to resist them.
They are also useful in conjunction with a multidimensional outreach plan (combining cold email and LinkedIn outreach). You may automate your communications when you have professional emails and LinkedIn URLs by using a multichannel outreach solution like LaGrowthMachine.
3. Linkedin Inmails: How to send them automatically
LinkedIn InMail sending can be automated with software such as Linkedin Helper or Expandi. These programs enable you to send InMails on autopilot rather than manually writing each one. If your manual InMails are already operating, this is a significant saving of time.
Don't automate InMails, though, if you don't receive responses to your manual Inmails! Developing faulty processes will only provide terrible results.
Best Practices for LinkedIn InMails
Here are three essential principles to follow when delivering a LinkedIn premium messaging service.
1. Write short InMails
Linkedin data shows that shorter InMails typically have higher reply rates than extended InMails.
Why is this the case?
Due to the fact that reading and responding to your communications requires less effort on the part of your prospect. Nobody enjoys reading messages this length. For someone you don't even know, it would be too much work. The same requirements apply to InMail subject lines. Maintain simplicity.

One or two words suffice. Your prospect should get the impression that this message was sent by a coworker.
2. Make your InMails more personal
We've all heard it a thousand times, but personalization is the most important performance aspect in prospecting programs.
In emails delivered one at a time, rather than in bulk, perform 15% better, according to statistics from LinkedIn. The comparison between template-based InMails and individual InMails is the same.
3. Avoid sending InMails on Friday and Saturday
Data from Linkedin shows that emails sent on Friday and Saturday receive a reduced response rate. When initiating your Inmails campaigns, try to send them earlier in the week.
How to Send an Unlimited Number of Linkedin InMails?
On LinkedIn, you can send an infinite number of emails. You must first identify Open Profiles.
Linkedin "Open Profiles" allow users to contact them even if they are not connected to them. You may find them by using Sales Navigator and exporting the leads from your search. Select TRUE as your filter in the Open Profile column.

Linkedin Messages Ads VS InMails
There are more methods besides LinkedIn InMails to reach your prospect's inbox without initiating a connection request.
Messages Ads are another option (formerly called Sponsored InMail)
What is the definition of LinkedIn Message Ads?
Message Ads (or Sponsored InMail) are delivered directly to your target audience's LinkedIn Inbox.

On the message, "Sponsored" is mentioned in place of "InMails." To submit a Message Ad, your prospect does not have to be a first-degree connection.
To maximize open rates, message ads will only be sent when your target is a member of LinkedIn.
How Can You Use Inmail Message Ads to Generate Leads?
When you do not receive a response from a prospect, Message Ads can be the ultimate follow-up.
• Emails
• LinkedIn messages on a regular basis
• InMails
Therefore, as a follow-up strategy, you might attempt Message Ads if a prospect doesn't respond to your InMail.