Can you use LinkedIn's Sales Navigator for recruiting?
Yes, it is possible.
Since you may use the same application to look for prospects and candidates, Sales Navigator is even better than Linkedin Recruiter.
In addition, Sales Navigator costs $99 per month versus $160 per month for Linkedin Recruiter.

I provide you with everything you need to know about how to use Sales Navigator for recruitment in this article:
How can you find candidates in Linkedin Sales Navigator?
How to Use Sales Navigator For Your Recruiting Business?
Let's Compare Linkedin Sales Navigator VS Recruiter: Which is the Best?
How can you find candidates in Linkedin Sales Navigator?
Is it the same as a Sales Navigator and LinkedIn recruiter?
No.
There are two distinct goods for different purposes.
Linkedin Sales Navigator is a better solution for attracting companies than Recruiter itself, which is a funny thing.
The goal of Sales Navigator is to access prospects, sales, and other information.
However, you'll discover how to utilize this app for all of your hiring needs.
With Sales Navigator, I'll show you how to populate your pipeline with top candidates.
In comparison to Linkedin Recruiter, Sales Navigator has more filters.
There are 29 filters in the Sales Navigator tool.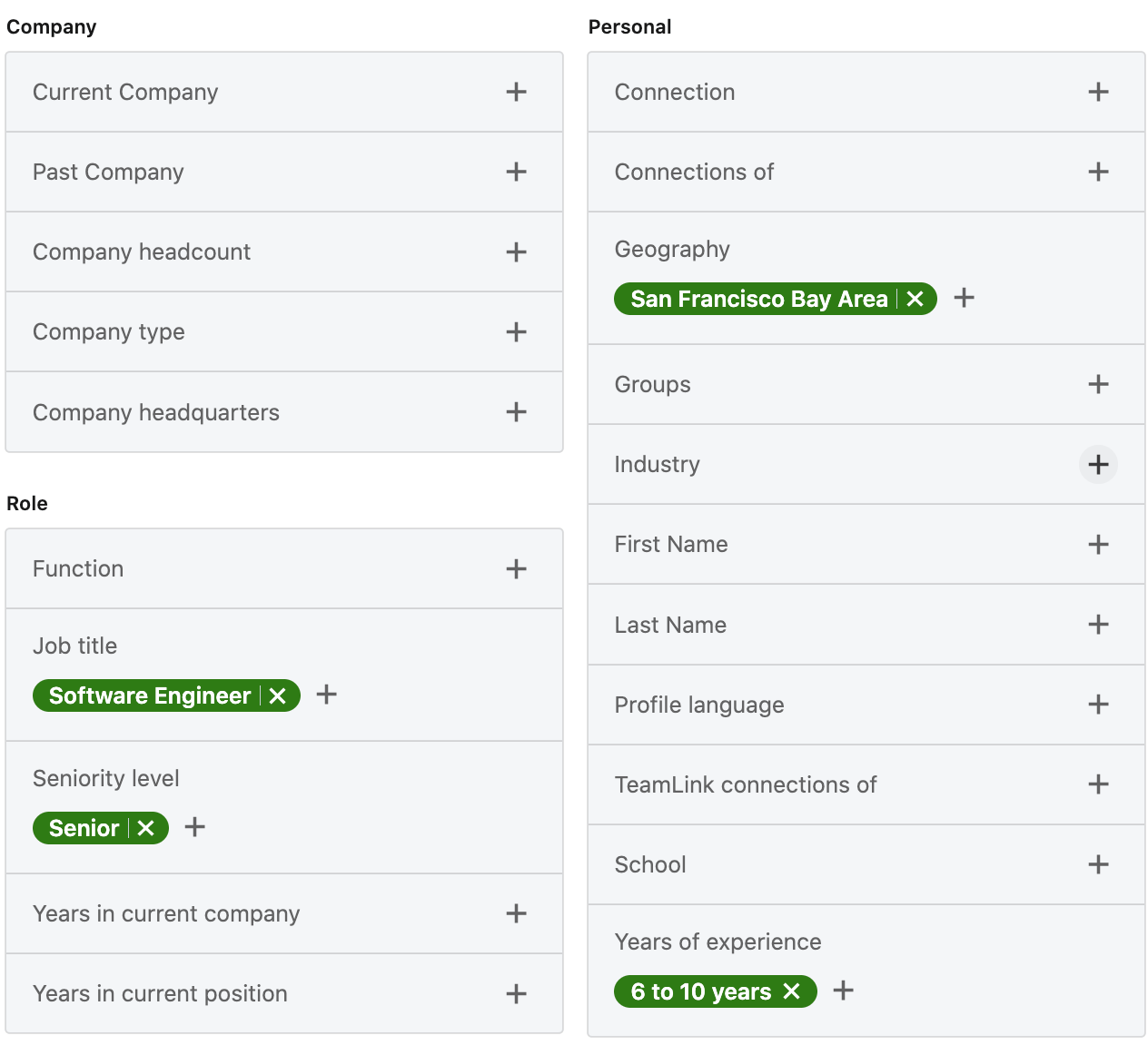 Useful filters for Recruiter:
Current Job Title
Past Job Tile
Current Company
Past Company
School
Years of Experience
Years in Current Company
And More…
For sales, as well as recruitment, these filters are valuable.
There are only 21 filters in Linkedin Recruiter Lite.
Except for this two, they're all on Sales Navigator.
- Skills
- Year of Graduation
The "Years of Experience" and the "Keywords" filters will easily bypass this deficiency.
Years of Experience is more valuable than Year of Graduation.
Indeed, all of the profiles, including the Skills section, will be searched for keywords by the Keyword filter.
If you know how long the candidate has been working using "Years of experience," you'll need to know the year of graduation. Using Sales Navigator, you can do this kind of candidate research.
Also, you can export filtered candidates to Scrupp and use skills filter inside the application: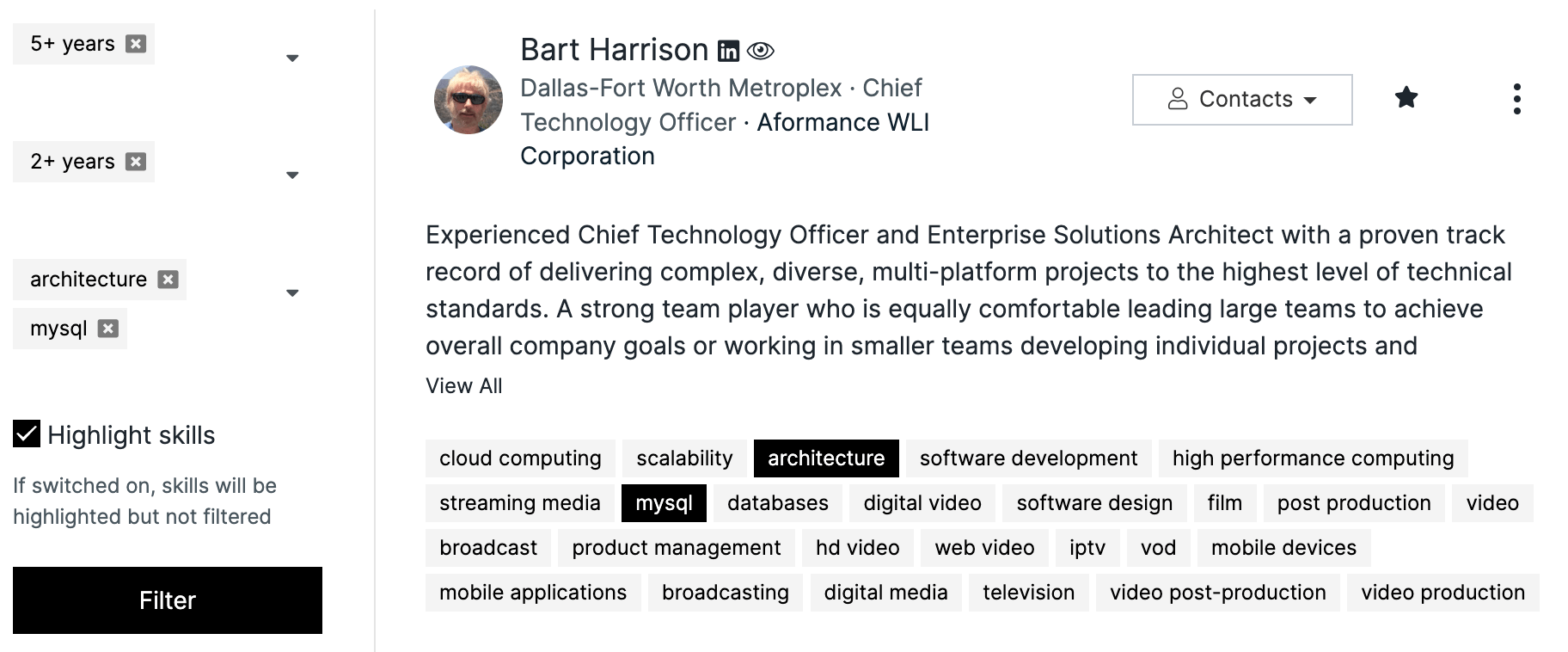 You may look at this teaching to learn more about filters and boolean search if you want to learn more about how to utilize a Sales Navigator to find candidates like in the Recruiter version.
Step #2: Saved Searches Can Automate Candidate Sourcing
You may save your search so that you are notified every time a fresh candidate matches your criteria after you've completed tuning your search filters. Just click on "Save Search" to get started:
You may access your search once it has been saved by clicking on the title "Saved Searches."

All of the new candidates match your filters in the column new results. Linkedin will add new profiles matching your requirements every week, and you can contact them right away.
Useful Tips!
Customize Your Promotion Messages!
If you create a developer profile on Linkedin you will see how it works. the in-demand professional profile gets an absurd amount of messages and requests every day.
But without hyper-personalization, there is no way to stand out. By presenting icebreakers' ideas in the inbox, Linkedin Sales Navigator allows you to personalize your messages.
Also, you can use about section information or experience to create a personal message to a candidate.
With Sales Navigator, you get 50 inbox credits each month. If you succeed to locate Open Profiles, you may send unlimited In-mails. Here is a guide that will help you do it.
Candidates are not limited to 100 connections per week, so you can also send a standard connection request to them. There are a couple of hacks you may use to get around this limit here.
You may attempt to get candidates' emails if they do not respond to In-mails or Connection Requests, or create an email campaign with sequences and reach out to them through emails.
Here's what you should do next.
Step #4: Find Emails from Sales Navigator by exporting candidates.
In contrast to Recruiter, Sales Navigator enables you to install a variety of plugins and extensions. With Scrupp, you may easily build an email list from LinkedIn Sales Navigator searches and lists.
Step #1: With the Scrupp Chrome extension, extract your search.
Step #2: When you've finished extracting, proceed. To add the emails to your CSV, click the Find Emails button.
Step #3: Get your file
Scrupp will find and verify candidates' professional email addresses, and they'll be added to the file's right (csv, xlsx). You can create an email campaign for candidates, who have emails, others can be reached by connection request, In-Mails, or messages.
Step #5: On the Sales Navigator, you can find Open-to-work candidates.
In Sales Navigator, there is no "Open to Work" filter.
Honestly, would you be willing to pay $835 per month for this filter? This is one of the differences between Recruiter Lite and Recruiter plan.
If you use Sales Navigator + Scrupp, there is a workaround for filtering on "Open to work."
Scrupp detects "Open to Work" candidates and you can filter it and export to your CRM right away!
Congratulations!
Linkedin Sales Navigator is now showing you how to locate candidates. This tool has the potential to do much more. Why don't you use it to find prospects for your recruitment agency?
How to use Sales Navigator for your Recruitment Company?
If you're a recruiting firm, Linkedin Sales Navigator is a fantastic lead generation tool. You can choose to focus on leads or accounts.
The account search should be used by recruiters if you're a recruiting company. As a result of this, here's why.
Step #1: On Linkedin, create a list of companies that are currently hiring.
You may employ the following magic filter: "Hiring on Linkedin."
All of the companies with present one or more LinkedIn job openings will appear in this filter.
After that, you may apply extra filters, such as:
Company Headcount
Growth Rate
Size of Departments
Department Growth
Location
Industry
And more…
This gives you the chance to create a highly curated list of current LinkedIn recruiters.
Step #2: Save The Search To Be Notified When New Companies Start Hiring
To be notified every time a company posts a vacancy on LinkedIn, you may save your account list.

You'll be alerted every week of new LinkedIn profiles that have opened job openings.
As a recruiting company, that's a fantastic strategy to put your lead generation on autopilot.
Step #3: Analyze Their Needs with Company Pages Insights
You get some insight into the recruiting needs of a given company when you've identified a list of firms.
To do this:
Go to the company page
Go to the insight section
Click on Job Openings
You will see how many job offers they have currently opened
And in which department they are hiring
Gold is knowing for sure what position they're looking for. Your reply rates will soar if you use this data appropriately in your prospecting emails.
You've expressed your client's priority via identifying it. Now, let's figure out who to contact for the best decision.
Step #4: Find the Decision Makers
You can use the Account Map widget on the company's page to locate decision-makers to contact.
You can filter Recommended Lead on Functions and Selected Human Resources if it's a big firm. Inside the HR department, Linkedin will display decision-makers.
You can create a new Account map if you targeted a specific group and don't want to use the default Sales Navigator map.
The C-Levels will be visible on the right-hand account map if it's a tiny company. C-Levels will often recruit employees on their own in small businesses, so check first the company size and decide who is a decision-maker for your offer.
Great, thanks. The persons who should make the decision are identified.
Now, let's look at how to send a message that will always be answered.
Step #5: Send Personalized Messages With Account Alerts
You should send a customized message to maximize your chances of getting a response. You may utilize the alert section on company pages for that.
All kinds of corporate news may be found in this section.
Linkedin posts shared by the company page
Mentions in the news
New Decision makers
That's the perfect subject to consider for a personal icebreaker.
Or you can use information from the about section of a decision maker.
It will demonstrate that you have done some research on them, and you are not a newcomer.
I specifically state their need and include a really personal icebreaker in this message, so there's a good chance of being replied.
On the LinkedIn Sales Navigator, that was the manual way to prospect as a recruiting business.
Now, let's look at how to do it manually.
Step #6: Automate Your Lead Generation Process With Account Lists
There is a straightforward approach you can use to identify all the decision-makers in a list of companies if you don't need to check every company page. Account-based searching is the term for it.
To build an account list out of it, the first step is to search for and join a LinkedIn group.
For that:
Select companies using the tick boxes
Click on "save to list"
Create a list of the accounts into an existing list
If you clicked View Current Employers, all selected accounts will be in a Current Company section, just add Decision makers to the Job title section, and add other filters.
If you saved accounts to the list:
Go on the lead search
Find the workflow filter
Select the company list you have just built
Add filters to find decision-makers
Boom!
You've just built a highly focused list of decision makers. You're probably familiar with Scrupp's export and search features, just do it.
All right, there you go. You now have an Excel file containing all of the data you need about your prospects and emails. You may elect to contact them directly. To automate this procedure for you, try using an outreach tool.
Step #8: Using a prospecting tool, you may automate your outreach.
There are a bunch of Linkedin automation tools where you can run your campaign and save some time for coffee.
SocialPilot
Linked Helper
Zopto
MeetAlfred
Crystal
Dux-Soup
Dux-Soup can help you make healthy eating choices, find bargains on groceries, and get recipes delivered to your door.
Alfred helps organize your digital life with quick access to all of your email, calendar items, documents and more.
MeetAlfred connects with other Google Voice users in nearby areas so you can easily find office or meeting mates without leaving home.
You can read more about different tools right here.
Linkedin Sales Navigator VS Recruiter: What is the Best Option?
Sales Navigator is a better choice than Linkedin Recruiter for recruiting businesses. Linkedin Sales Navigator is a one-of-a-kind tool that will allow you to do both. Only candidates can be found through Linkedin Recruiter.
In addition, since it includes more filters than Recruiter (29 vs 21), Sales Navigator is more effective at finding candidates.
Between sales navigator and LinkedIn recruiter, there is a big difference in cost.
Sales Navigator: $99 per month,
Recruiter Lite: $160 per month,
and Recruiter Corporate: $835 per month.
You may utilize Sales Navigator for your recruiting firm's sales operations, which provides a tenfold higher ROI.
And one more Pros for Sales navigator, you can try it for free! Linkedin gives a possibility to try one month's trial. Get a trial version and follow all tips from this article and you will see that Sales Navigator + Scrupp is a good investment for your business!
Conclusion.
You win the argument. This tool will become your best friend if you know how to use the Linkedin Sales Navigator for recruiting. It'll yield a higher return on investment than Linkedin Recruiter will. Make the best decision and choose Sales Navigator when it gets to recruiting.