LinkedIn is a convenient and quick way to find employment. You may read the most recent updates, as well as live reviews and work experience. Furthermore, communications on social media are more likely to be seen than an invitation on a job board, although people are less ready to accept calls from unknown numbers.
If you're a hiring manager or the owner of a company, you're probably not going to be satisfied with just a social networking site. Corresponding through a narrow window, or worse, on a phone, can prohibit you from reaching out to additional candidates.
A job search using LinkedIn can be a fruitful experience when you select the right keywords. It is also important to understand that there are fields on LinkedIn, where your job search will get maximum exposure.
Using the job opportunities function on LinkedIn is one of the most effective ways to go about finding people who are available to work. Basically, it allows you to do job opportunities searches utilizing a variety of filters that can help you get job opportunities results based on your specific search terms. The title filter is arguably the most commonly used as well because this helps find job titles from which your keywords appear within. A more detailed rationalization behind its usefulness will be discussed later below among others!
There are two methods for finding LinkedIn users who are available for work. The first method involves paying for the "Open To Work" Filter on LinkedIn Recruiter. The second option is far more affordable and involves using Sales Navigator search criteria.
Let's explore your options for finding LinkedIn users who are looking for work.
Utilize the LinkedIn Recruiter's Open to Work Filter
Using the Open to Work filter in LinkedIn Recruiter is the quickest approach to locate job candidates on the social media platform. Due to this filter you can see which users on LinkedIn have chosen to be "open to work." Because of the fact that this option is only available with Linkedin Recruiter ($835/month), rather than LinkedIn Recruiter Lite ($170/month), the open to work tool is pricey.
Five more filters are available after you upgrade to LinkedIn Recruiter. Among them are:
- Internal candidates
- Open to work
- Are more likely to respond
- Engaged with talent brand
- Have company connections
This alternative could be a solution if you have money, but I'm sure some of you won't be ready to spend that much money just to acquire this filter. No worries.
The second choice will suffice.
How to Find LinkedIn Sales Navigator Candidates Who Are Willing to Work?
On LinkedIn Sales Navigator, there are 4 ways to locate seeking employment:
1. Apply the "current job title" filter.
2. Conduct a keyword search.
3. Look for unregistered company pages for job seekers.
4. Look for Linkedin communities for job searchers.
1. Apply the "current job title" filter
This alternative is equally efficient as the first, but it is significantly less expensive. All you need is a LinkedIn Sales Navigator profile.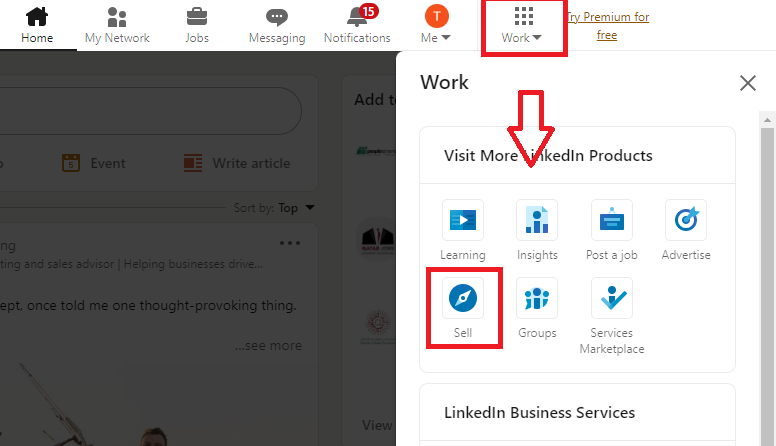 Sales Navigator is simply $99 per month, with a one-month free trial. We will use boolean search to locate persons looking for new chances to find ready-to-work accounts on LinkedIn Sales Navigator.
Simply said, we're going to search LinkedIn profiles for keywords that denote job-seeking activity. That is what the "Title Filter" and the "Keyword Filter" will be used for. All of the current job titles of the LinkedIn members will be searched using your keywords via the Title filter.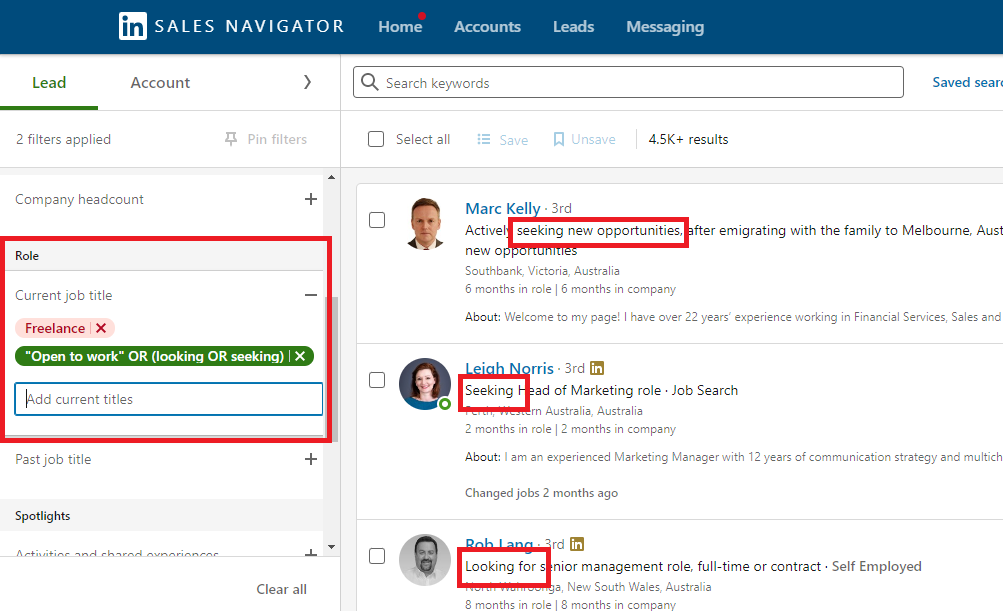 The following boolean search can be copied and pasted into the Current Job Title filter to achieve the same results: "Open to work" OR (looking OR seeking)
It's worth noting that you can filter out freelancers from your search results by entering the job title and selecting the symbol. The position title is highlighted in red.
2. Conduct a keyword search
Just use exact same phrase in the keyword filter to broaden the keyword to every profile field (job titles, job descriptions, about sections, headlines, etc.).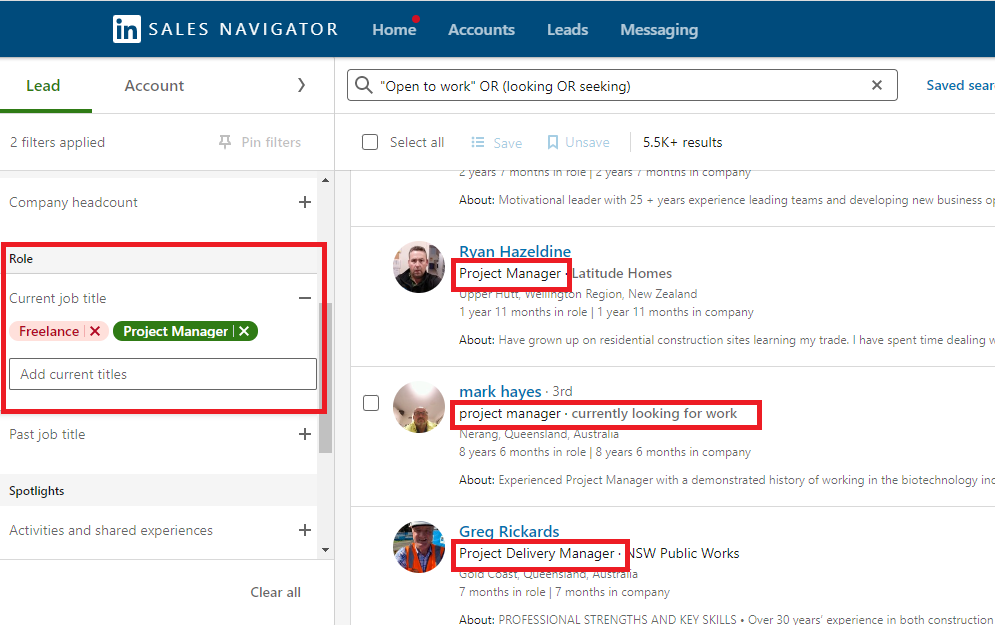 There is no indication of "open to work" or "seeking for work" in the job title. However, sometimes in the About area can be noticed the terms "searching" and "opportunity."

3. Look for unregistered company pages for job seekers
To gather job searchers, several unauthorized corporate pages have been made. They are accessible using the current company filter.

On LinkedIn, people frequently link their profiles to these kinds of company pages while they are searching for work.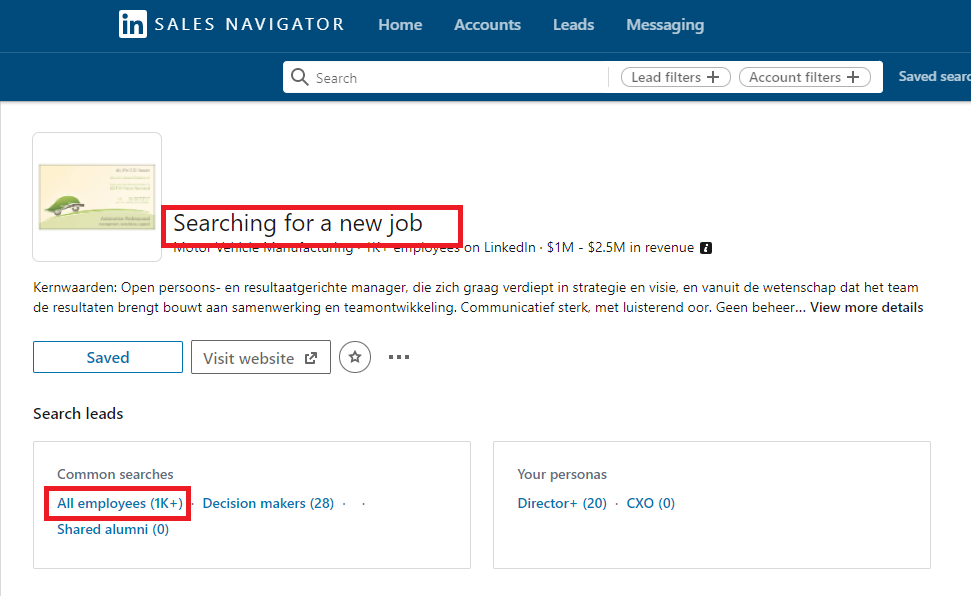 4. Look for LinkedIn communities for job searchers
Alternatively, you can search for jobseekers groups on LinkedIn by using the Group Filter. Add the same groupings, enter the job title you're looking for, and then check the results. You will get access to a list of all the appropriate individuals who belong to employer groups on LinkedIn.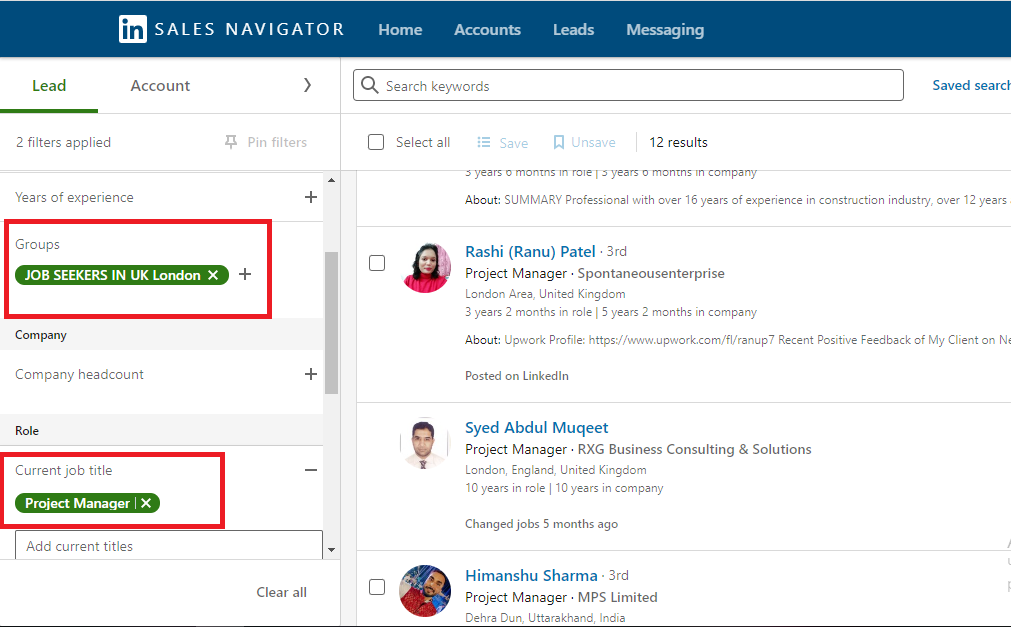 5. Use Job Title Hashtags to Find Candidates
Hashtags assist recruiters and job seekers in locating relevant vacancies or information. When you click a hashtag, it displays all of the tagged content from across social media. If you include relevant hashtags in your posts and profiles, job searchers will be able to find your organization if they search such hashtags. Similarly, if they post content with a hashtag that you click, you can uncover suitable prospects.
Bonus tip. And now I will tell you how Lever Can Help
Lever assists recruiters in maintaining relationships that are designed to grow high-performing teams. You can enhance your reach and exposure in today's competitive job market by having access to a wide selection of solutions that meet your individual demands, and you'll learn how to look for prospects on LinkedIn and more. You can interact with and build talent relationships across several channels by utilizing Lever Nurture.