Discover the Top 5 LinkedIn Scraping Tools to Elevate Your Lead Generation Game
When you're looking to supercharge your lead generation strategy, having the right LinkedIn scraping tool can give you a significant edge. In this article, we'll explore five top-notch tools that can help you create email lists from Sales Navigator with ease.
Scrupp - Unlock Unlimited Potential
First place in our rating.
This microSaaS tool performs its job remarkably well.
Firstly, it offers unlimited plans for scraping and email enrichment.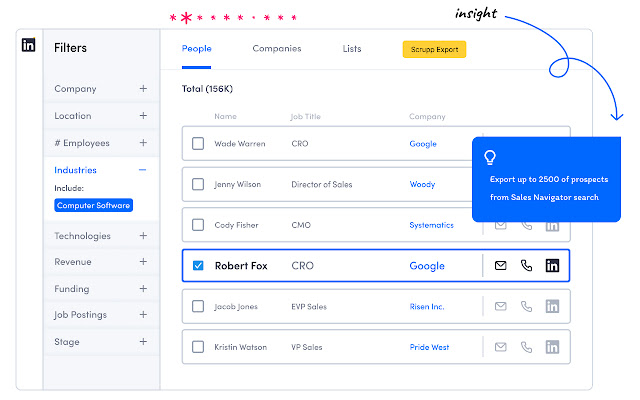 With options priced at $39 and $99 for emails, you can effectively address all your requirements for email campaigns. The tool is relatively new, and there's hope that the founders will introduce more features such as account scraping and webhooks in the future. Regardless, they already show great potential in this niche.
Pros:
Unlimited Scraping Plan
Unlimited Email Plan
Verified Professional Emails
High Speed
Comprehensive Data Export
Cons:
Exclusive Compatibility with Sales Navigator
Free Plan Limited to 1000 Scraping and 50 Email Credits
Scrupp takes the top spot with its attractive pricing, offering unlimited plans, high-quality emails, and robust data scraping capabilities. While it's exclusively compatible with Sales Navigator, its limitations are balanced by its exceptional features.
Phantombuster - The LinkedIn Powerhouse
Second place
Phantombuster is your go-to tool for LinkedIn scraping, workflow creation, and B2B prospecting automation. It allows you to extract various data from LinkedIn profiles, including search results, post interactions, group information, and more. The integration of Email Finder streamlines efficiency and saves valuable time.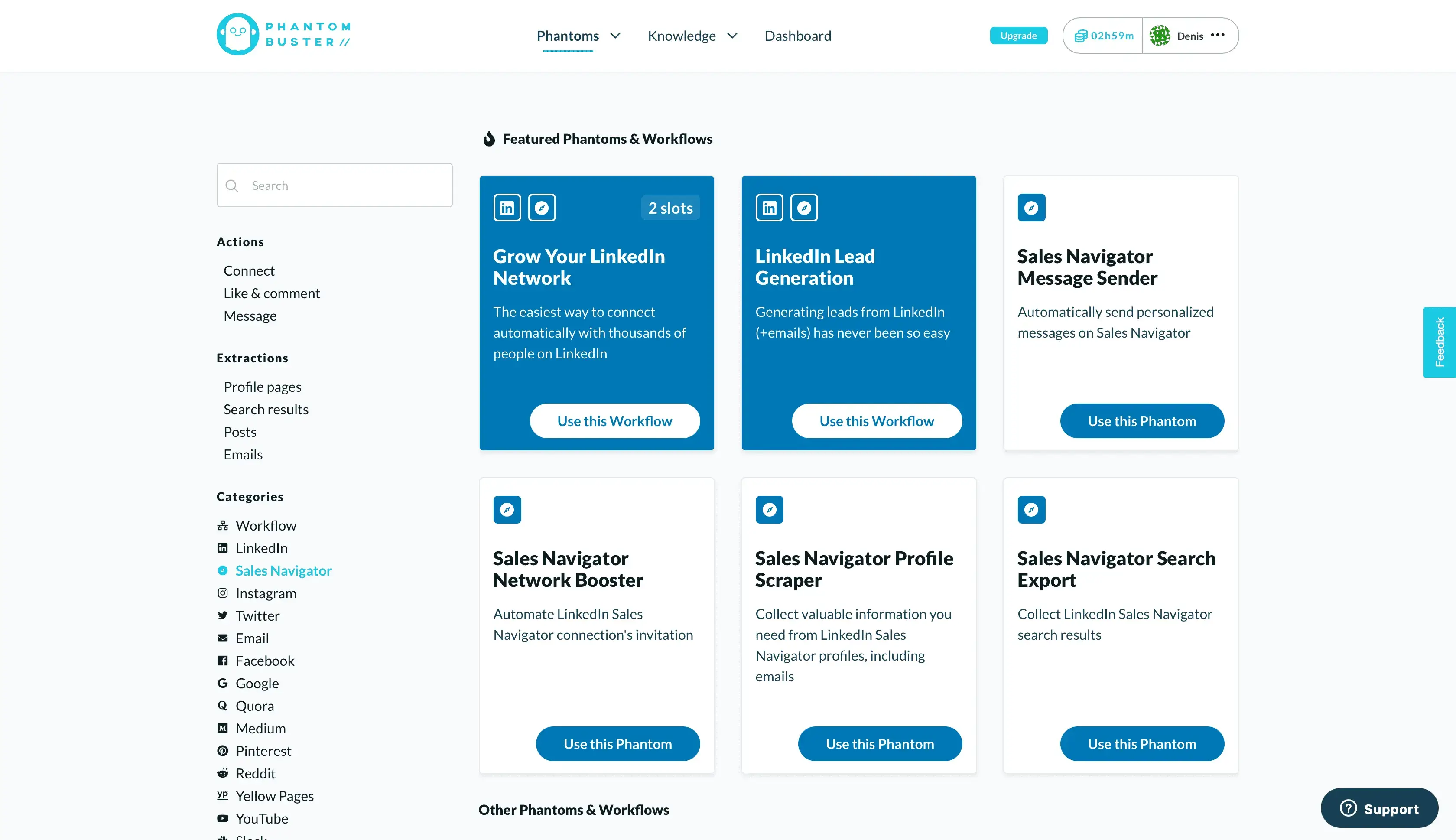 Considerations:
Each automation is unique, providing versatility
Output file formats may vary, potentially causing complexity
Integrations with Integromat and Zapier have limitations
Pricing:
Starting from $69 per month with 20 hours of execution, 5 automation workflows, and 500 email enrichments
Free Plan:
Offers 30 minutes of execution per month and one automation workflow
14-day free trial with 2 hours of execution and five automation workflows
Snov.io - The Cold Outreach CRM
Third place
Snov.io, an all-in-one CRM with a focus on cold outreach, offers a wide range of prospecting features, including bulk email searches, verification, integrated mailing, and domain warmup. Its integration with Sales Navigator enhances its functionality.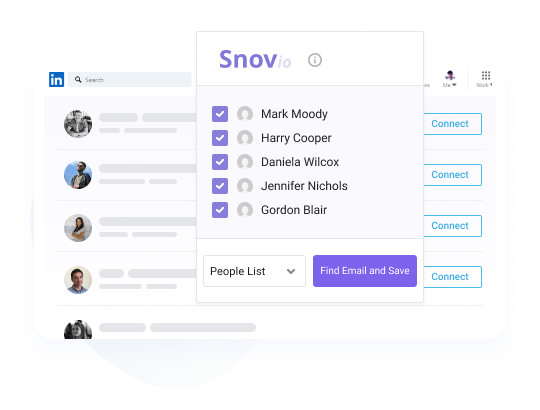 Pros:
Big own database
Integrated Email automation
Integrations with Zapier
Cons:
Slow data scraping
Emails need to be verified
Pricing:
Starting from 39$ per month for 1000 emails
99$ - 5000 emails
Findymail - Precision Email Extraction
Findymail, available as a standalone platform and Chrome extension, stands out for its precise email extraction using the proprietary EmailDiscovery™️ algorithm. Seamless integration with Sales Navigator allows you to export the email addresses of leads in a convenient CSV file, enhancing your outreach efforts.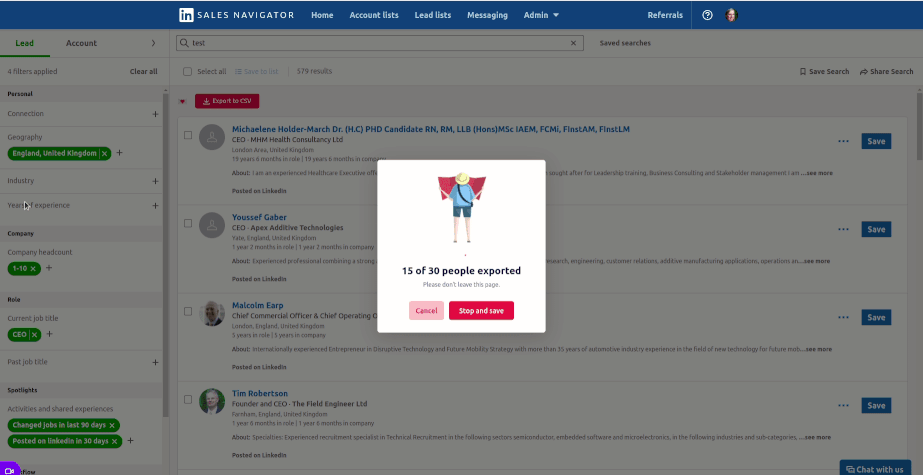 Pros:
Good email finder
Has API
Supports Apollo.io
Cons:
Slow data scraping
Costly emails
Pricing:
Starting from 49 per month for 1000 emails
Evaboot - Excellence in LinkedIn Scraping
Evaboot excels in scraping LinkedIn data from personal and corporate profiles. Its browser extension offers a powerful "Export with Evaboot" feature within LinkedIn Sales Navigator, simplifying the extraction process. While Evaboot lacks direct CRM integration, its user-friendly dashboard and efficient extraction make it a strong contender.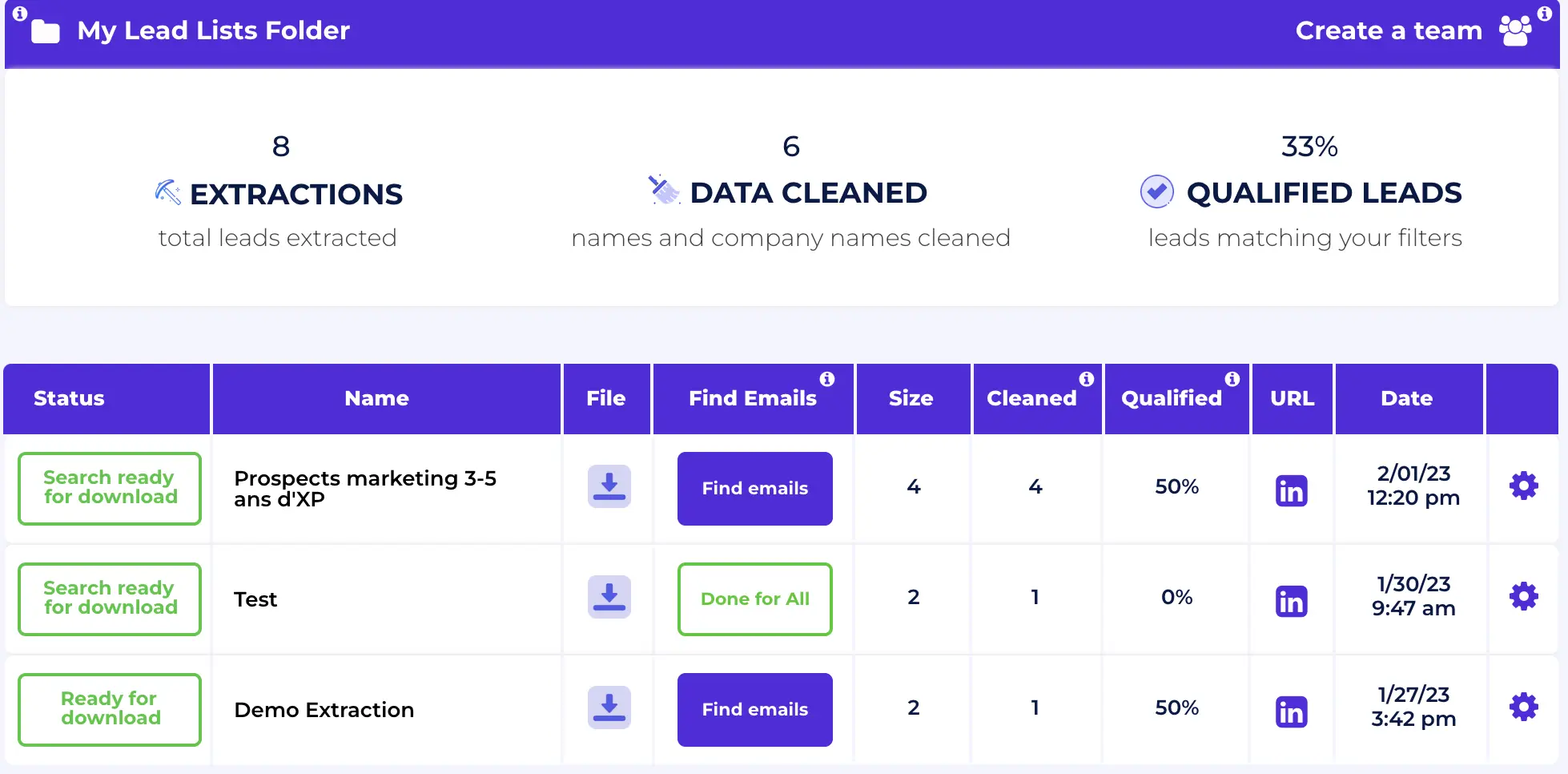 Pros:
Sales Navigator filters
Good speed
Cons:
Email finder is costly and charges credits per search, so in the end from 2k credits you have 500-1000 emails.
Sometimes you should wait for your queue to get data from SN
Pricing:
Starting from €49 per month, with options for 2,000 lead extractions and 2000 emails
Seamless email enrichment with Dropcontact for existing users
Free Plan:
Offers 150 credits per month
14-day free trial with access to 1,000 credits
With these top LinkedIn scraping tools at your disposal, you can enhance your lead-generation efforts and propel your business to new heights. Choose the tool that best fits your needs and watch your outreach strategy flourish.