You can establish multiple LinkedIn accounts and utilize the free trial several times to use LinkedIn Sales Navigator for nothing.
You will need to use a different credit card each time you sign up for a new free trial because LinkedIn will save the details of your credit card.
To be effective, you must extract the most leads possible from Sales Navigator into a CSV/Excel file within your trial period of one month.
1 Month Free Trial of LinkedIn Sales Navigator
If you work as a freelancer or are just starting your firm, the pricing of LinkedIn Sales Navigator is quite costly.
Luckily, there is a free trial period of one month available for you to use to try out the tool.
Simply select Work > Find Leads to access.

Choose Sales Navigator Core after that, and then click "Start my free month."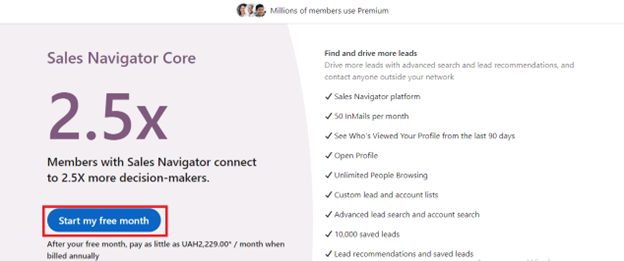 Finally, you've got free access to the website. Now, the objective is to make the most of this month by gathering all the necessary data before the free trial expires.

During the free trial, you can export a maximum of leads from LinkedIn Sales Navigator
The data is the primary reason why individuals use Sales Navigator. However, you do not have to be subscribed for numerous months to access the data from Sales Navigator.
You can download up to 2500 leads per day from Linkedin Sales Navigator using the chrome extension linkedin scraper Scrupp.
If leads are extracted daily for a 30-day free trial, that brings the total to 75 000 leads.
Prior to signing up for the free trial, be careful to define your goal clearly because you only have one month to get all the leads you require.
How to Get Multiple Sales Navigator Free Trials
You can get another trial version from another LinkedIn account if 30 was not sufficient to retrieve all of your leads from LinkedIn Sales Navigator.
There are two things you must take control of:
• Change your payment card because LinkedIn will notice if you use the same one for several free trials
• Heat up your new account for a week to keep from having your freshly formed account banned
LinkedIn is constantly watching new accounts in order to prevent abusive conduct and the creation of LinkedIn account farms.
Here is the progression we recommend:
• Day 1: 100 extractions
• Day 2: 300 extractions
• Day 3: 500 extractions
• Day 4: 800 extractions
• Day 5: 1000 extractions
• Day 6: 1500 extractions
• Day 7: 2000 extractions (the highest limit)
You can proceed in this manner. However, you should be aware that you will not be able to reap all of the Sales Navigator benefits through this method.
What You Lose When You Don't Pay for LinkedIn Sales Navigator
You can utilize LinkedIn Sales Navigator for free with these tactics, but you cannot get access to other amazing services like:
• List building (for Account Based Marketing)
• Saved Searches (to generate leads on autopilot)
• Smart Links
• CSV File Upload
All of these tools can assist you to increase your new leads on LinkedIn.

Conclusion
The subscription to LinkedIn Sales Navigator for free allows you to access various features such as tagging prospects, and sending emails, among others. It also provides you with a very precise targeting system and advanced filters so that it is easy to search your prospect if he or she fits any criteria that can be set by you in the subscription package.
You may use LinkedIn Sales Navigator for free by doing the following things:
1) Taking numerous LinkedIn free trials
2) Retrieve as much data as possible before the end of the free trial
However, you will just have access to the data and not the additional features that might be really beneficial for lead creation. Lead/Account Lists and Saved Searches, in particular.